Realook 3D Forming Crystal Screen Protection Film
Trader

South Korea
Product Detail
Information
Introduction
3D Forming film has same shape as the liquid crystal with curve, completely protecting LCD on the corner. Crystal 3D forming film keeps the HD display performance optimal.

This film is made to fit to the equipment without failing to cover rounded corners as it is a product that wrap around the whole body of equipment.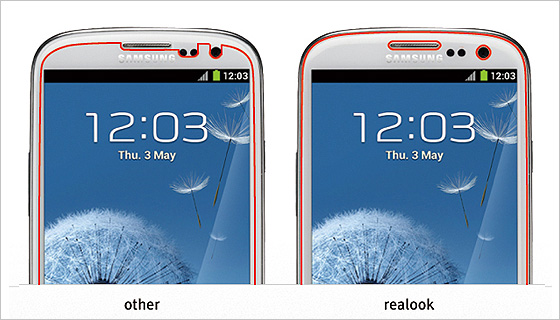 Change the mind, then can see the speciality.
- Realook's protection films manufactured with 3D scanning to fit perfectly to your equipment, will protect your valuable equipments and appliances
Q & A The film forming 3D?
- 3D forming film is the curved surface of the liquid crystal protection film.
- Uniquely designed for female users, this film can be used as a mirror.
- Attached to ensure a perfect unity.
Perfect sense of unity with Realook.
- Covering even the curved surfaces, the film provides you with perfect sense of unity with the equipment.
Feel the difference with Realook.
- The film will perfectly protect all the corners of your equipment that other products cannot possibly cover.
How to Use